I know the blog is called RANTS and Raves, but I'm making an effort to rant less and rave more. As part of that I wanted to share some thoughts on something that warrants a positive rave. That something is my AfterShokz Titanium headset. The AfterShokz were one of my most surprisingly used things last year.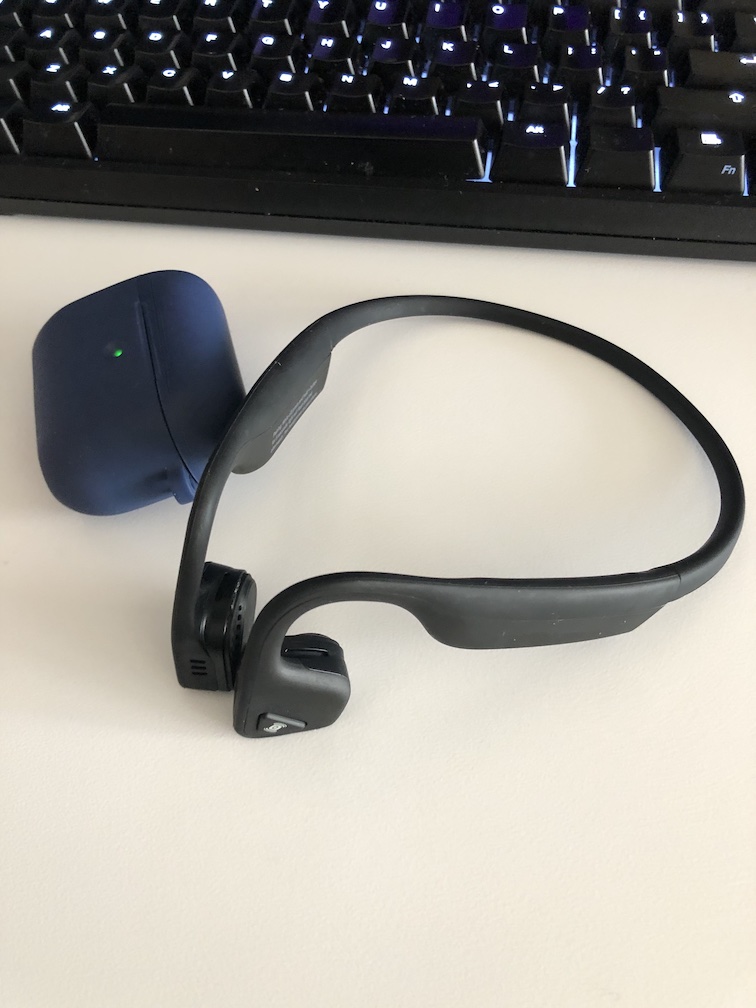 I never used to wear earbuds or headphones when riding. I know other riders who do wear buds and I've always been surprised that they could ride with them. About once a year, I'd try riding with one (wired) earbud in place and put on music or a podcast when I was really far away from traffic on a rural ride. But I usually hated it and it felt wrong and I'd shut it off. That said, I never felt that I missed music or input, I just thought it'd be a nice-to-have.
Also- I started to get judgey about people who I encountered on rides who had in-ear earbuds in place. Mostly because as I'd ride up next to them and say hi, they never heard me coming and then I'd wonder about the safety aspect. I also tended to be slightly jealous that they were riding with earbuds that weren't slipping out. My airpods are great for work, but there's no way I'm going to risk losing one on a ride. Even cheaper knockoffs I'd be nervous about.
But enough people recommended that I give the AfterShokz a try that I decided to get a pair. I had looked at them years before but I didn't like them at the time. I'm not sure if they improved or if I was more open to trying them, but they clicked this time.
They fit around your head and sit on your cheekbones, near your jaw hinge. The sound goes to your ear via bone conduction. Because of that your ears are open and you can hear all the sounds around you. They were perfect for walks, jogs and the bike. The only negative is the sound isn't great if you're thinking that you'll have audiophile-level quality, but that's a minor point. That only effects me when I'm on the bridge where it's really windy (but I still don't usually have music or podcasts on when I'm on he bridge out of habit). They've been great on really long rides.
The only other possible negative is that they could be slightly uncomfortable if you have other stuff on your face. By that I mean during Covid I typically ride with a Pandana (see this post) or a mask or a regular bandana that I raise and lower. In addition I'll have my glasses and helmet on too. So it took me a little bit of time to get used to putting things on in an order that I like. Again, a minor point, but something to think about. In the pics below you can see how small they are. So it shouldn't be a major concern.
So there you have it- a nice Rave to start off the year.